April 2010
OpenCC (Open Chinese Convert, 開放中文轉換) is an open source project for conversion between Traditional Chinese and Simplified Chinese, which provides a collection of high-quality phrases and a library written in C language (libopencc). The project is hosted on Google Code and Github. Online conversion tool is available.
Features
Strictly distinguishes "Simplified-Chinese-to-Traditional-Chinese one-to-many mappings", "Simplified-Chinese-to-Variants one-to-many mappings" and "Different custumal forms of idioms among regions".
Compatible with different standards and customs of Mainland China, Hong Kong, Taiwan, Macau, and ancient Chinese.
Supports conversion between variants (i.e. 「裏」「裡」) and phrases (i.e. 「鼠標」「滑鼠」). Users can import and extract custom.
Supports cross-platform C++, Python, Ruby, PHP interfaces.
OpenCC has been used by projects below
Derivatives of OpenCC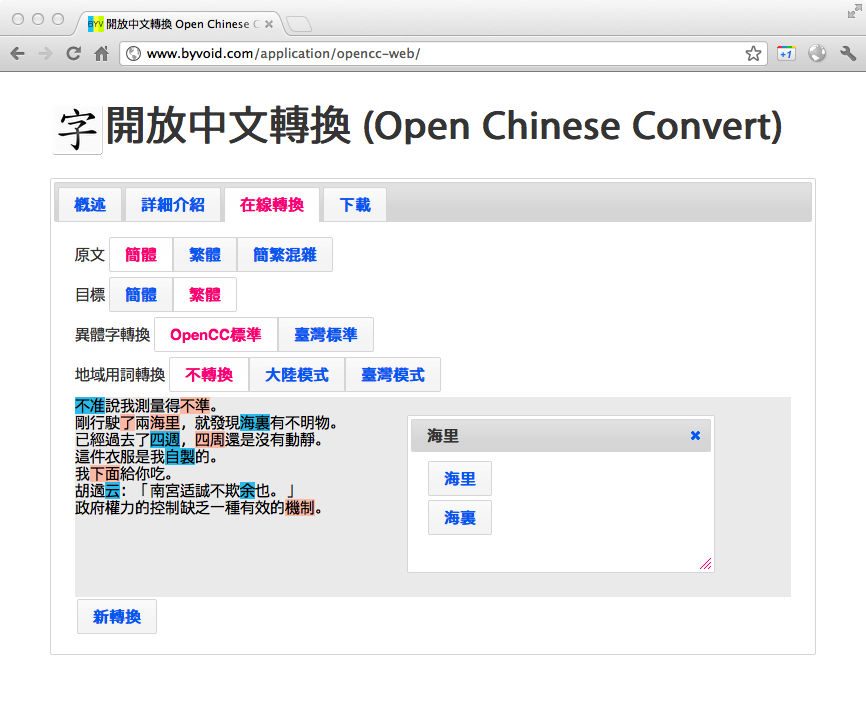 ---
Last modified on 2017-05-17